In recent years, there has been a growing demand for CNC lathes and vertical CNC lathes around the world. And to meet our customer's requirements, we have done extensive new product research.
As a result of our comprehensive research, the biggest power chuck that we manufacture is now 24 inches (Φ610mm). And we now have a very impressive product line, with our power chucks ranging in sizes from 3 inches to 24 inches.
With more than 20 years experience in this field, we are confident in our excellent quality, as well as the perfect accuracy of our products. If you need any further information, please don't hesitate to contact us. We look forward to cooperating with your esteemed company in the near future.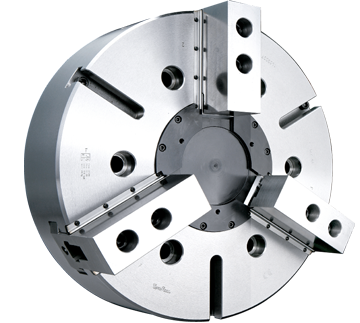 VW-A
3-jaw wedge type non through-hole waterproof power chuck (with adaptor)
DETAIL